Stoneleigh Community Library hosts many different events and activities. Please keep an eye on our Social Media accounts, and this website, for information about what's on.
There is also information about What's On in other Surrey Libraries on the Surrey Libraries Website.
Ready, Set, Read!
The Winter Mini Challenge 1st December 2023 - 19th February 2024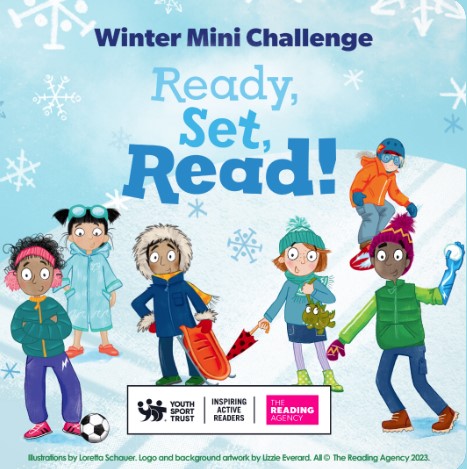 Stoneleigh Community Library is proud to support The Reading Agency with the return of the Winter Mini Challenge, an online, bitesize version of the annual Summer Reading Challenge.
Winter is here, and so is the chance to snuggle up with a good book and embark on a magical reading adventure!
This time, we're bringing you even more fun and exciting ways to spark a love of reading in even the most reluctant reader.
What is the Winter Mini Challenge?
The Winter Mini Challenge is a free online challenge that encourages children aged 4-11 to read for pleasure over the winter months.
Children can pick their favourites from the large range of books that we have at Stoneleigh Library, including crazy comic books, great graphic novels, fact-filled information books, super story books and even awesome audiobooks. Of course, they can also go online and download e-books or borrow books from their school library. And, there will be activity sheets at Stoneleigh Library, as well as lots of videos, fun games and activities you can play online.
If they can't get to a physical library, don't worry they can go online and download e-books or borrow books from the school library.
Children will set their own reading goals, read books they love, and collect virtual rewards along the way. They must read at least 3 books between 1st December 2023 and 19th February 2024.
Why should your child take part?
The Winter Mini Challenge is a great way to:
Encourage children to read for pleasure
Help children maintain their reading skills over the holidays
Provide children with a fun and engaging way to spend their time
Introduce children to new authors and genres
Build a love of reading that will last a lifetime
How to take part:
Sign up for a free account on the Winter Mini Challenge website.
Set your child's reading goal.
Come to our library and choose books your child loves to read.
Help your child select a character to track their progress on our special display board
Record your child's progress and collect virtual rewards.
Download a printable certificate of completion once your child reaches their reading goal.
PLUS
When you've completed the #WinterMiniChallenge, bring your library card and certificate to Stoneleigh Library for a special prize. (You can also show us the certificate on a phone rather than print it if you like.)
If you'd like some help signing up or if you have any questions, just pop in and speak to one of our volunteers.
Premier League Football Card Swap
Saturday 9th December 2 pm to 3.30 pm

Stoneleigh Library has hosted a variety of successful card swaps in the past and is delighted to announce that to fulfil the request made by our young library users, we are trialling a Panini Adrenalyn X 2023/2024 season Premier League Football Card swap.
Kicking off at 2 pm on Saturday 9th December.

It is free to attend, and no need to book tickets, Just come along and join the fun-friendly match.
Let's see if, with some concentrated teamwork, we can move a few keen collectors nearer their goal of a completed collection before the final whistle at 3.30 pm
This is a family event, children need to bring an adult as well as their collector album and their spare cards to swap. No other fixtures are scheduled at present but if it proves a winning formula we will consider adding more to the programme in the future.
Don't like football?
We have lots of other activities at the library. Join our mailing list to get regular updates.
Calling Christmas Craft Enthusiasts
Thursday 14th December 10.30 am to 12.30 pm
Create some Christmas magic when you join our special crafting event. At this workshop you will be making angels and Christmas trees using the fascinating technique of book folding.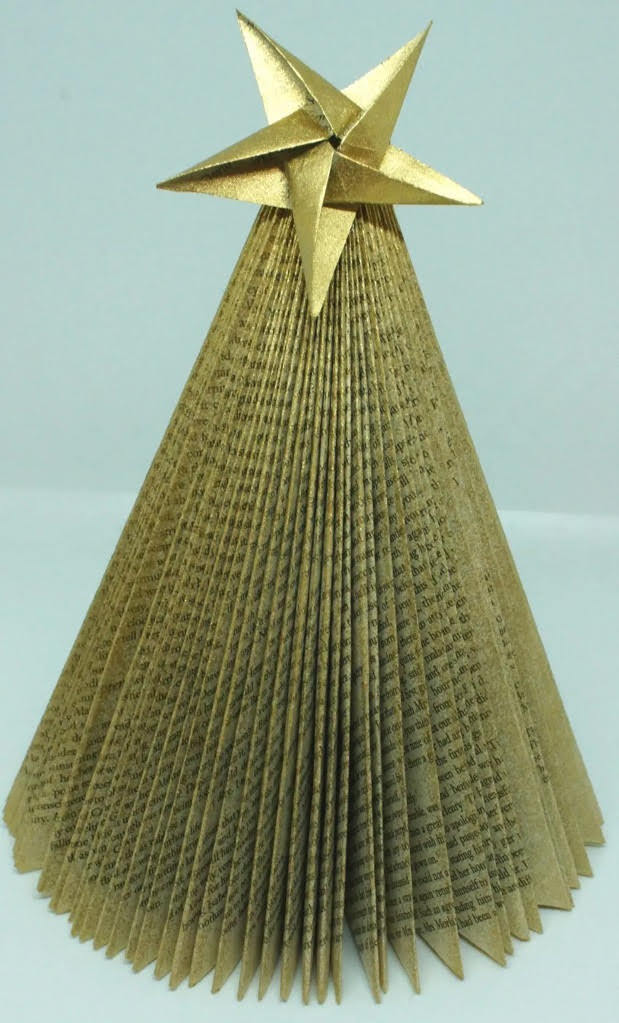 Book folding is a method of delicately folding the pages of a book to create intricate, stunning 3D designs. Our guide will demonstrate every step, so all are welcome regardless of experience. Basic materials required for the models will be provided so you just need to bring your festive spirit, and perhaps a friend or two!
The event is limited to just 12 adults attending so we encourage you to secure your spot early. To reserve a place, stop by the library or send an email to stlibraryops@gmail.com. Use "Crafting Event" in the subject line, tell us how many tickets you need, and provide a contact number.
Get ready for a morning of festive book folding and community cheer. Let's make this holiday season extra special together!
Vegan Christmas Special
Friday 15th December 7.30 pm to 9.30 pm

Deck the Halls with Coffee and Cheer!
Thursday 21st December 10.30 am to 12.30 pm

You'll find a warm and welcoming atmosphere at Stoneleigh Library, with plenty of festive cheer. Come along and meet up with friends and neighbours for a chat while enjoying a cuppa and a mince pie. Browse our newest books – and don't forget to enter our Christmas raffle for a chance to win a fantastic prize.
It's the perfect way to get into the Christmas spirit - we hope to see you there!
A Christmas Raffle for a Good Cause
The Friends of Stoneleigh Library are delighted to announce their Christmas Raffle.

Tickets are available from the library, £1 for 5. That's five chances to win one of our wonderful prizes, while supporting your local volunteer-run community library.
1st prize: Christmas Hamper
2nd prize: Luxury Box of Chocolates
3rd prize: Pack of Stoneleigh-themed merchandise
The draw will take place on Thursday 21st December at midday – during the Christmas coffee morning.
The proceeds from the raffle will be used by Friends of Stoneleigh Library to provide events and activities in the library.
Thank you for supporting our Christmas raffle and helping us make a difference in our community.