News from Stoneleigh Library
Stoneleigh Community Library has now fully re-opened and the majority of our regular groups and activities have returned - Check what's on here.
Please keep an eye on our Social Media accounts and this website for updates.
Stoneleigh Broadway Christmas Trail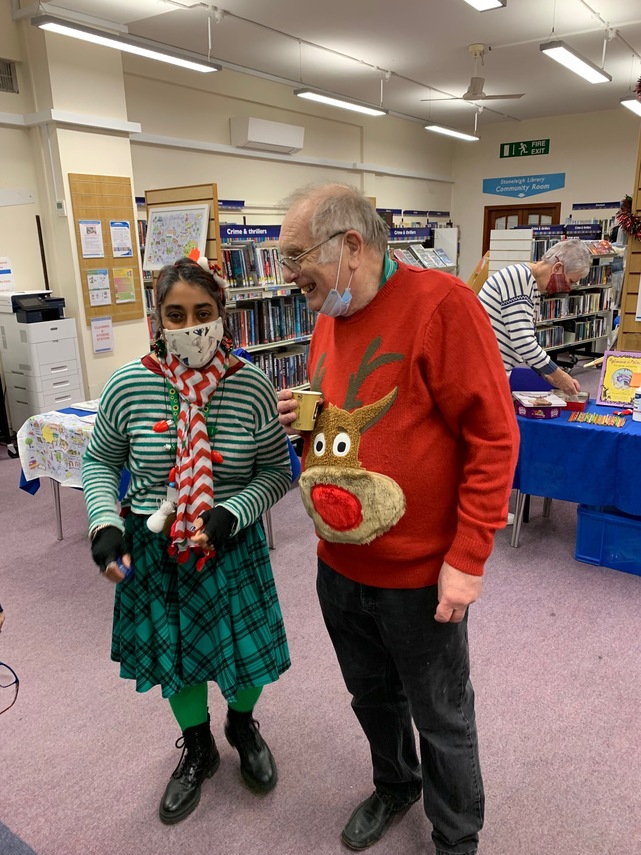 The festive season got underway with the Stoneleigh Broadway Christmas Trail on 4th December. It was entertaining and fun for the children, with imaginative contributions from our partners for this event:
Art-K - Christmas arts & crafts sessions and Face Painting
Bodyfix Clinic - Christmas Hoopla with Mr Bones
Learn & Grow Tuition - festive Spanish songs, arts & crafts, lucky dip
Masons Bar - meeting Father Christmas and his elves
Phillomena Dance Studio - making festive marshmallow characters
Poltsa - Christmas guessing game
The Children's Trust - Children's lucky dip
V Tech Solutions - Christmas Competition
The mayor and mayoress came to see what was happening. They were shown along the Broadway by some of our volunteers, including two of our younger members.

Our many volunteers all worked hard to make it a great occasion.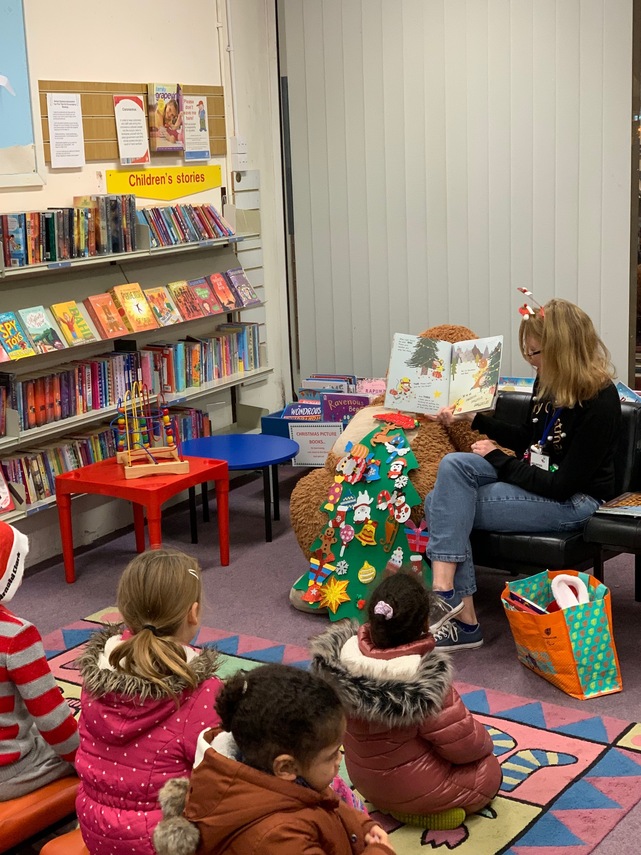 The library was packed with families enjoying story times, crafts stall, puzzles and displays and free refreshments including home-baked cakes kindly provided by one of our own volunteers.
Traders on the Broadway also offered traditional and seasonal refreshments and hosted entertaining activities, including the trail, which started and finished at the library.
The mayor was presented with a framed Stoneleigh print (on sale at the library) during his visit to the event, which finished with carol singing outside the library - and the hamper raffle draw inside.

Co-op donation to
the Stoneleigh Broadway Christmas Trail
We are grateful to Stoneleigh Co-op for their generous contribution to the Stoneleigh Broadway Christmas Trail. Steve from the Co-op presented us with a cheque for £150 - together with a donation of various treats and goodies for the Hamper Raffle.
Thank you to our partner traders who helped make Saturday's event the best it could be for everyone in the local community!

Diabetes support comes to the library
Stoneleigh Library is proud to welcome Surrey Downs Diabetes UK Group to the library who will be running a FREE weekly support group in the library.
Running between 2.00 pm and 4.00 pm every Monday for eight weeks, starting on 11th October 2021, the group will be sharing ideas on how to improve health and fitness.
They will cover topics including;
Your diabetes

Can you reverse T2 diabetes?

The role of food and medicine

Making Changes

Getting Active
If you would like to attend this group please contact Surrey Downs Diabetes UK Group. Call Nicole on 07957 611759 or email surrey_downs_diabetes@outlook.com