Stoneleigh Community Library has loads of groups and activities - Check what's on here.
Please keep an eye on our Social Media accounts and this website for updates.
Children's Author Event
On Saturday 28th October award-winning children's author Serena Hassan came to visit the library.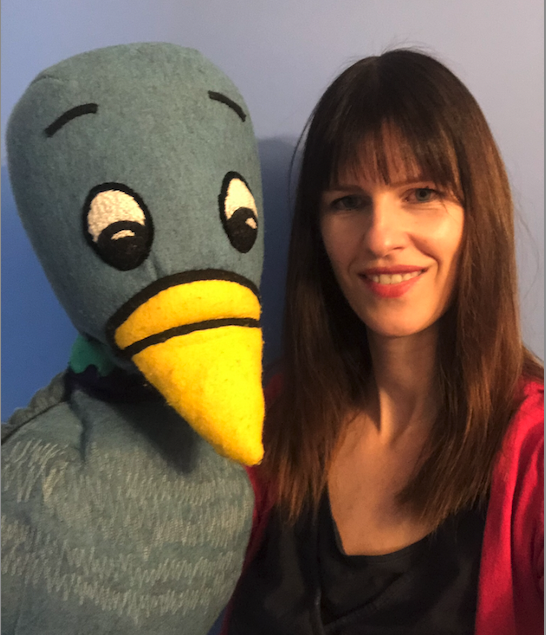 Serena, together with the Tap-Dancing Pigeon of Covent Garden, entertained the children during this exciting interactive event. She invited them to become the sounds that Pigeon hears, and followed her reading with a game that included eco warrior pigeons and pigeon puppet making - and a lesson in beginners' ventriloquism. The session ended with a book signing by the author.
The Knight's Journey - Explore Learning Workshop
On Tuesday 24th October 2023 the library played host to a fun workshop aimed at children aged 5 - 7 to help their English learning. The event was run by Explore Learning. The theme was the knights' quest, in medieval times, journeying to the king's throne: the children had to joust their way through many grammar tournaments!
Stoneleigh Library Celebrates Horatio Nelson: Britain's Greatest Naval Commander

On Wednesday, October 18, we hosted a talk on Horatio Nelson, Britain's greatest naval commander. The speaker, Roy Buchanan, is a retired mechanical engineer, police officer, and local government official. He is also a passionate historian and a gifted storyteller.
In his talk, Roy discussed Nelson's early years as the son of a clergyman, his rise to fame in the Royal Navy, his battles, and his heroic death at Trafalgar in 1805. He also discussed Nelson's fascinating character and his very public love affair with Lady Emma Hamilton.
Roy also briefly looked at the milieu of 18th-century Britain and the kaleidoscope of events that took place during Nelson's lifetime. He mentioned Jane Austen and her connection to the Royal Navy, and he highlighted the modern literature inspired by this hugely interesting period of naval history.
The talk was informative and entertaining, and it was clear that Roy is passionate about Nelson and his legacy. He answered audience questions with enthusiasm and knowledge, and he left the audience with a deeper understanding of one of the most important figures in British history.
Stoneleigh Library AGM Highlights Success and Community Support

Friends of Stoneleigh Library (FSL) held its annual general meeting (AGM) on Thursday 19th October 2023, with a warm and welcoming atmosphere as members and supporters gathered to celebrate the library's achievements and discuss its future plans.
Chaired by FSL's chair, Mrs Diana Kay, the meeting was filled with positive energy as attendees learned about the library's successes over the past year. From hosting engaging author events to providing essential resources for students and lifelong learners, Stoneleigh Community Library has remained a vital hub for the community.
The library's volunteers were praised for their dedication and commitment to providing a high-quality service. Their hard work and enthusiasm have been instrumental in making the library a welcoming and inclusive space for all.
The AGM also included a vote of thanks for the staff of Epsom Library. Volunteers expressed their appreciation for the staff's willingness to go the extra mile to provide support and assistance. They noted that the staff are always happy to answer questions, offer guidance, and help with any challenges that may arise.
While the library is facing some challenges, such as the rising cost of living, the AGM was a testament to the strong support it enjoys from the community. Members and supporters expressed their commitment to ensuring that the library continues to thrive, and their willingness to volunteer their time and donate to the cause.
In addition, a special presentation was made to Mike Teasdale, who stepped down from being a Trustee of Friends of Stoneleigh Library after more than five years of active support for the community. Mike was praised for his dedication and commitment to the library, and his many contributions were acknowledged. The presentation of a gift was a small token of appreciation for his years of service.
As Stoneleigh Community Library looks to the future, it does so with confidence, knowing that it has a strong foundation of support from the community it serves. With continued dedication and collaboration, the library will remain a vital resource for generations to come.
Stoneleigh Library's Adult Craft Workshop a Smashing Success.

Stoneleigh Library's adult craft workshop was a smash hit on 12th October, with participants of all skill levels coming together to create beautiful and unique pieces.
From beginner crafters to experienced artists, everyone had a blast painting stones for the garden and tiles to make into coasters. The expert tutor provided step-by-step guidance, ensuring that everyone was able to create pieces they were proud of.
The workshop was a great opportunity to relax, be creative, and socialise with other members of the community. Participants enjoyed sharing their ideas and inspiration, and helping each other to create their masterpieces.
One participant, who described herself as "not very artistic," said she was surprised at how much she enjoyed the workshop. "The tutor was so patient and helpful," she said. "I'm really proud of the stones and tiles I painted."
Another participant said that the workshop was the perfect way to spend a cold morning. "I was able to relax, be creative, and make something beautiful," she said. "I would definitely recommend this workshop to others."
Stoneleigh Library is planning to host more adult craft workshops in the future, so be sure to check their website or follow them on social media for upcoming events.
Stoneleigh Community Library celebrates Summer Reading Challenge success!

Over 40 children and their families attended a fun-packed Finishers Celebration at Stoneleigh Community Library on Saturday 30th September, to celebrate the end of the 2023 Summer Reading Challenge.
The children who had successfully completed the challenge to read six books over the summer were invited to attend the celebration wearing their medals and sports or party clothes.
In line with the Challenge's sport and activity theme of "Ready, Set, Read", the library had been rearranged with six mini challenges set out around the room for children to enjoy. There was a mix of skill, puzzle-solving, craft and observation activities, with the opportunity to stop for cake and squash at any time.
Continuing with the sports theme, special guests this year were Gail Benghiat and her son Oliver Benghiat. They have completed the London Marathon together a number of times, including on one occasion as the "back markers" encouraging and supporting the runners at the back. Gail and Oliver shared their stories of running the marathon and answered questions from the children. They also presented the children with their medals and certificates.
This year's Summer Reading Challenge has been very successful. More than 220 children participated in the main challenge for 4-11 year olds, and an amazing 134 completed the six book challenge. This exceeds last year's number by more than 50 children.
The mini challenge for younger children was even more successful with 23 participating and 10 completing, compared with just a handful starting last year and no finishers.
"We are absolutely delighted with the success of the Summer Reading Challenge this year," said FSL's Chair, Diana Kay, "It's been wonderful to see so many children getting involved and enjoying reading. We're also very grateful to Gail and Oliver for coming to the Finishers Celebration and sharing their stories. It was a real inspiration to the children."
People are already asking if there will be a winter reading challenge again. There will be more information about this in mid-November. If you are interested, join the Friends of Stoneleigh Library mailing list to keep up to date with all the latest news and information about Stoneleigh Community Library.
The Summer Reading Challenge is a national initiative that encourages children to read over the summer holidays. The challenge is open to children of all ages and abilities, and there are different levels to complete. Children who complete the challenge receive a certificate and a medal.
The Summer Reading Challenge is a great way for children to keep up their reading skills and to discover new books and authors. It is also a fun and sociable activity for children and their families to enjoy together.
Summer Storybox Kicks Off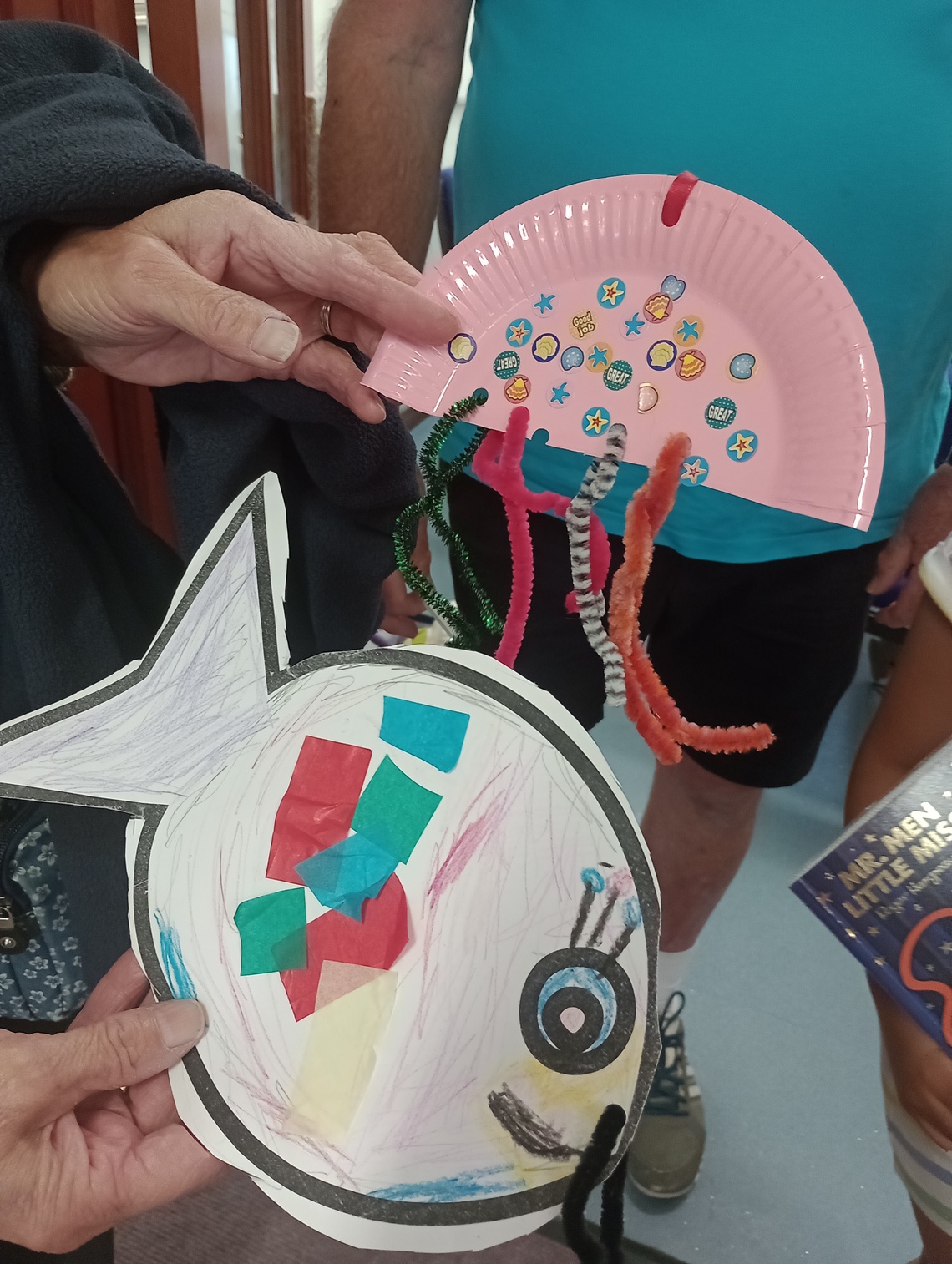 Our 7th August Summer Storybox session was a huge success! The library was full of laughter as the children enjoyed a fun-filled afternoon of stories, crafts, and games.
The session began with a storytime featuring a variety of stories about holidays and the seaside. The children listened attentively as the storyteller read stories about swimming in the ocean, building sandcastles, and catching crabs.
After storytime, the children got to make their own fishing rods. They decorated the rods with markers and stickers, and then they were ready to go fishing! The children were given a bucket of decorated fish and jellyfish. The children took turns trying to hook the fish and jellyfish with their fishing rods. They had a lot of fun trying to catch the slippery creatures, and they were all very excited when they finally succeeded.
The Summer Storybox session was a great way for children to learn about the seaside and to have some fun in the library. Check out our Special Events page to learn about more upcoming events.
Knights Journey
30th May 2023 saw a community workshop run by Explore Learning for children aged 5-8 years.
The theme was knights - and princesses-in-training! - set in the medieval era. The purpose of the workshop was to test the childrens' grammar skills during an epic journey to the throne, with jousting tournaments and other adventures along the way.
The organisers were happy to see that the children who participated in the event really enjoyed themselves.
Elmer's Birthday Celebrations
Stoneleigh Community Library hosted a special event on Saturday May 27th to celebrate Elmer Day.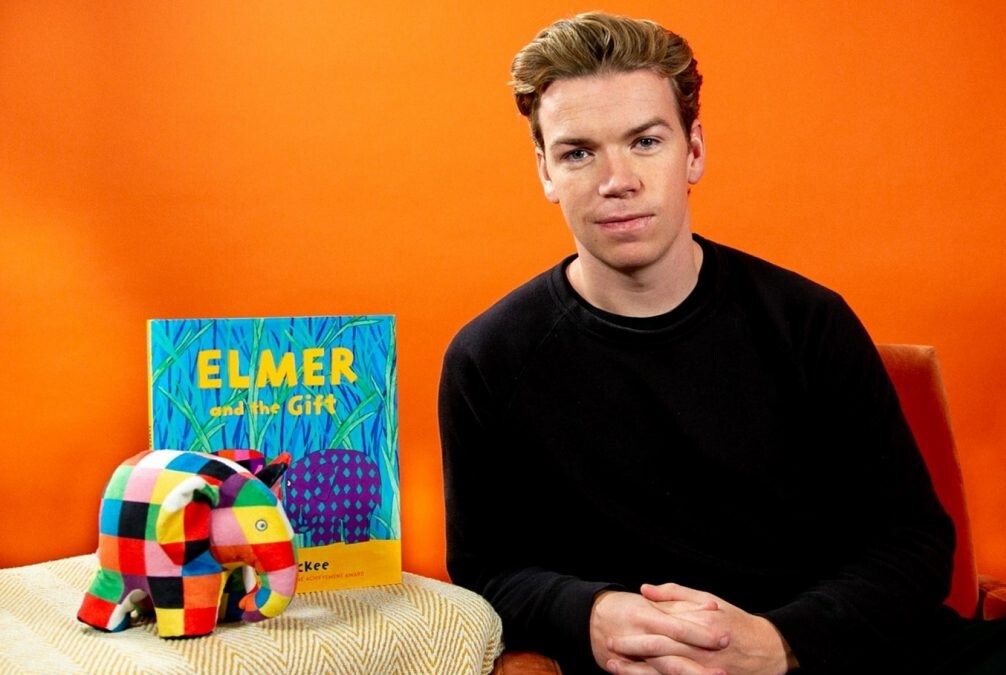 The event was based around the popular children's book character, Elmer, the patchwork elephant created by David McKee. The event kicked off with a storytime session, where children and their families listened to stories about Elmer and his friends.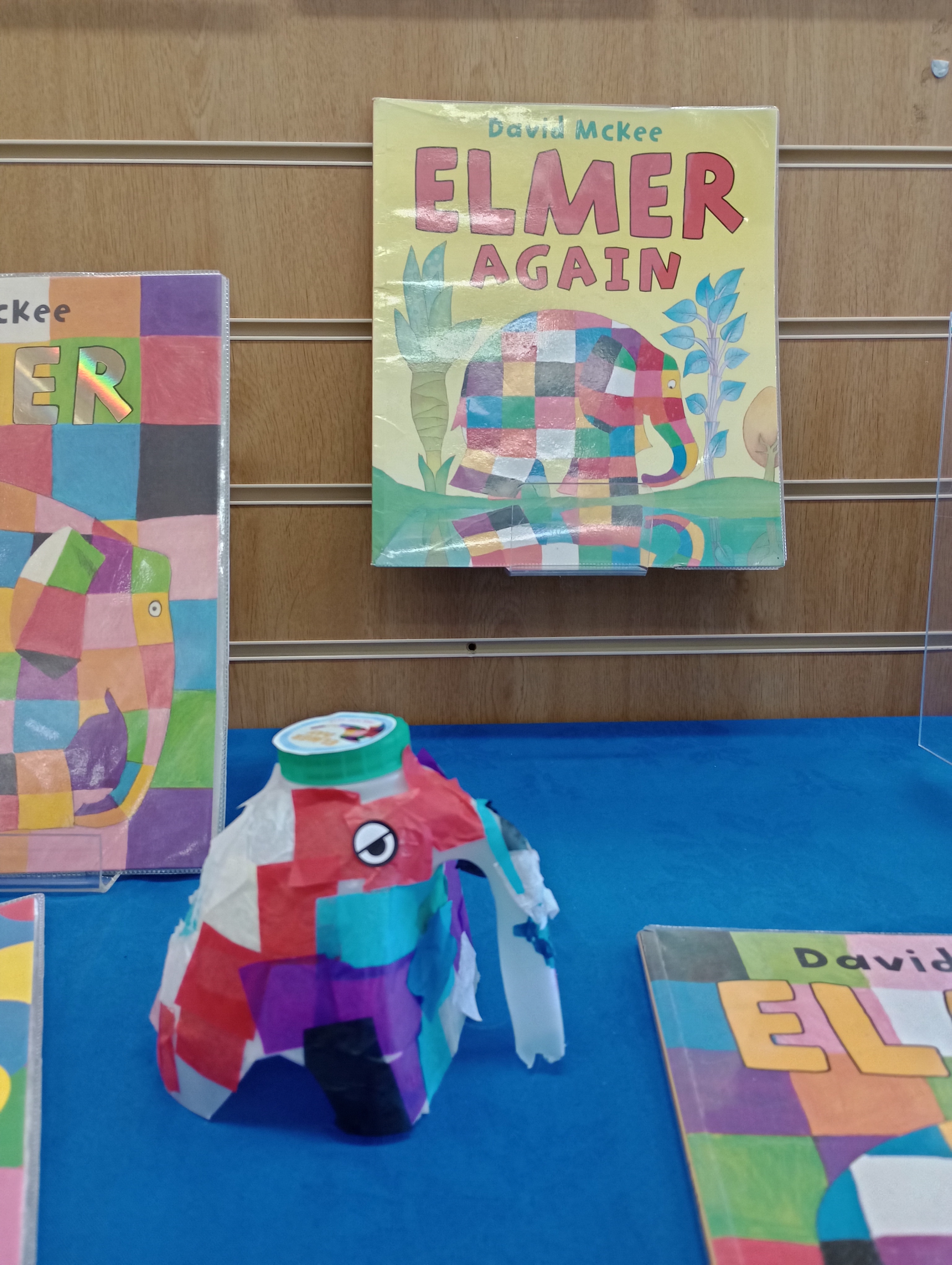 After the storytime children were invited to create their own Elmer out of a milk bottle and coloured tissue paper.

There was an Elmer Trail set up in the library, as well as colouring sheets, puzzles and other Elmer-related activities.
The event was a huge success, with many children and carers attending. Families had a great time creating their own Elmers and exploring the library. The library received positive feedback from attendees, with many people saying they would love to see more events like this in the future. Here are some quotes from the comments book:
"We all had a great time where our little ones enjoyed colouring and making Elmer. We would love to have more of these here in the library."

"Thank you all for organising this wonderful event for the community."

"Thank you for a fun morning of stories and crafts. We had a lovely time making our Elmer and colouring the pictures. The library is a great source of excitement for reading and entertainment. Great for the community."

"This was brilliant. It's so kind of people to give up their time. Thank you so much."

"Thank you for a lovely morning. Gretel says she enjoyed it so much and would love to come to more events like this! We had a fantastic time today."

"What a great idea to make Elmer from a milk bottle. Please do more of these sessions as the children have loved it."

"Lovely morning - my son loves craft activities so this was perfect. Thank you!"
The event was also a great way to raise of awareness of dementia, as Andersen Press, publishers of the Elmer books, teamed up with Alzheimer's UK to release a special edition of "Elmer and the Gift". This story features Elmer's forgetful aunt Zelda, and can help families to introduce conversations about dementia to their children.


Free Mental Health Talk Captivates Audience
A free mental health talk was held on May 18th, 2023 to recognise Mental Health Week (May 15th-21st). The presentation, titled "Boosting Mental Well-being - 10 minutes a day," was given by Debbie Brewin OT, MSc CBT, who is a Director of Mind-Growth Mastery and author of the book by the same name.
Mind-Growth Mastery is a locally based Community Interest Company that offers affordable training, coaching, and therapy to those who need it. Debbie is a qualified occupational therapist and cognitive behavioural therapist with over 20 years of experience in the field of mental health.
The talk was well-attended and the audience was engaged throughout. Debbie began by discussing the importance of mental health and how it can affect our overall well-being. She then went on to share some simple tips on how to boost our mental health in just 10 minutes a day.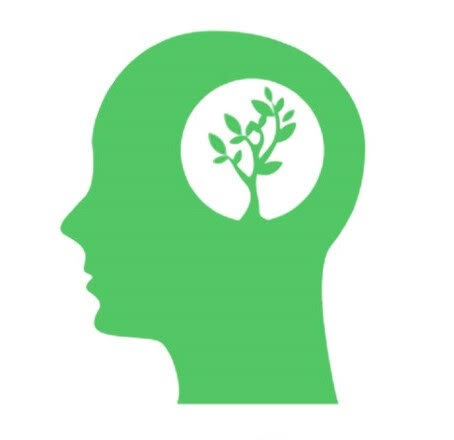 Some of the tips that Debbie shared included ways to Well-Being under the following headings:
Talking about feelings: Talk to a trusted friend, family member, or therapist about how you are feeling. It can be helpful to express your emotions in a safe and supportive environment.

Keep active: Exercise is a great way to improve your mood and reduce stress. Even a short walk or jog can make a big difference.

Eat well: Eating a healthy diet can help improve your mood and energy levels. Make sure to include plenty of fruits, vegetables, and whole grains in your diet.

Take a break: It is important to take breaks throughout the day, especially if you are feeling stressed or overwhelmed. Get up and move around, or do something you enjoy that will help you relax.

Drink sensibly: Alcohol can worsen mental health problems. If you are struggling with your mental health, it is important to avoid alcohol or drink in moderation.

Keep in touch: Stay connected with friends and family. Social interaction is important for your mental well-being. Make time to call, text, or visit with loved ones on a regular basis.

Do something you're good at: Find something you enjoy doing and make time for it each day. This could be anything from playing a sport to reading a book to painting.

Accept who you are: Everyone has strengths and weaknesses. It is important to accept yourself for who you are, flaws and all.

Ask for help: If you are struggling with your mental health, don't be afraid to ask for help. There are many resources available to those who need them.

Care for others: Helping others can be a great way to improve your own mental health. Find a cause that you are passionate about and volunteer your time.

The talk was a valuable resource for the audience and it generated a lot of questions. Debbie was happy to answer all of the questions and she provided additional resources to those who were interested.
Debbie also presented the audience as well as the Library with free copies of her book, "Boosting Your Mental Wellbeing".
If you are struggling with your mental health, please reach out to a health professional for help.
Easter 2023
Our library launched a variety of Easter activities on April 1st to help children develop their creativity and sense of adventure. The activities included a craft fair, an Easter egg hunt, craft materials for a spring display, and activity sheets. The library also launched its new Family Lego Club.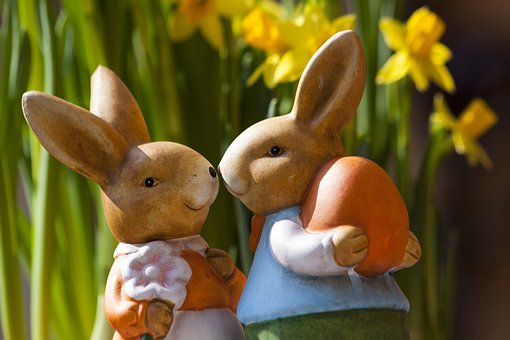 The Easter egg hunt was a popular activity, with children searching for eggs hidden throughout the library.
The library also provided craft materials for children to make a spring display. The children could use the materials to make flowers, trees, and animals. They could also use the materials to create a scene from a favourite story. The activity sheets were designed to help children learn about Easter and spring. The sheets included questions about Easter traditions, as well as puzzles and games.
The library's new Family Lego Club was a big hit. The club is open to families with children of all ages. The club meets once a week and provides families with the opportunity to build Lego projects together. The club is a great way for families to bond and have fun.
The library's Easter activities were a great success. The activities helped children develop their creativity and sense of adventure. The library is planning to offer more Easter activities in the future.
Science Week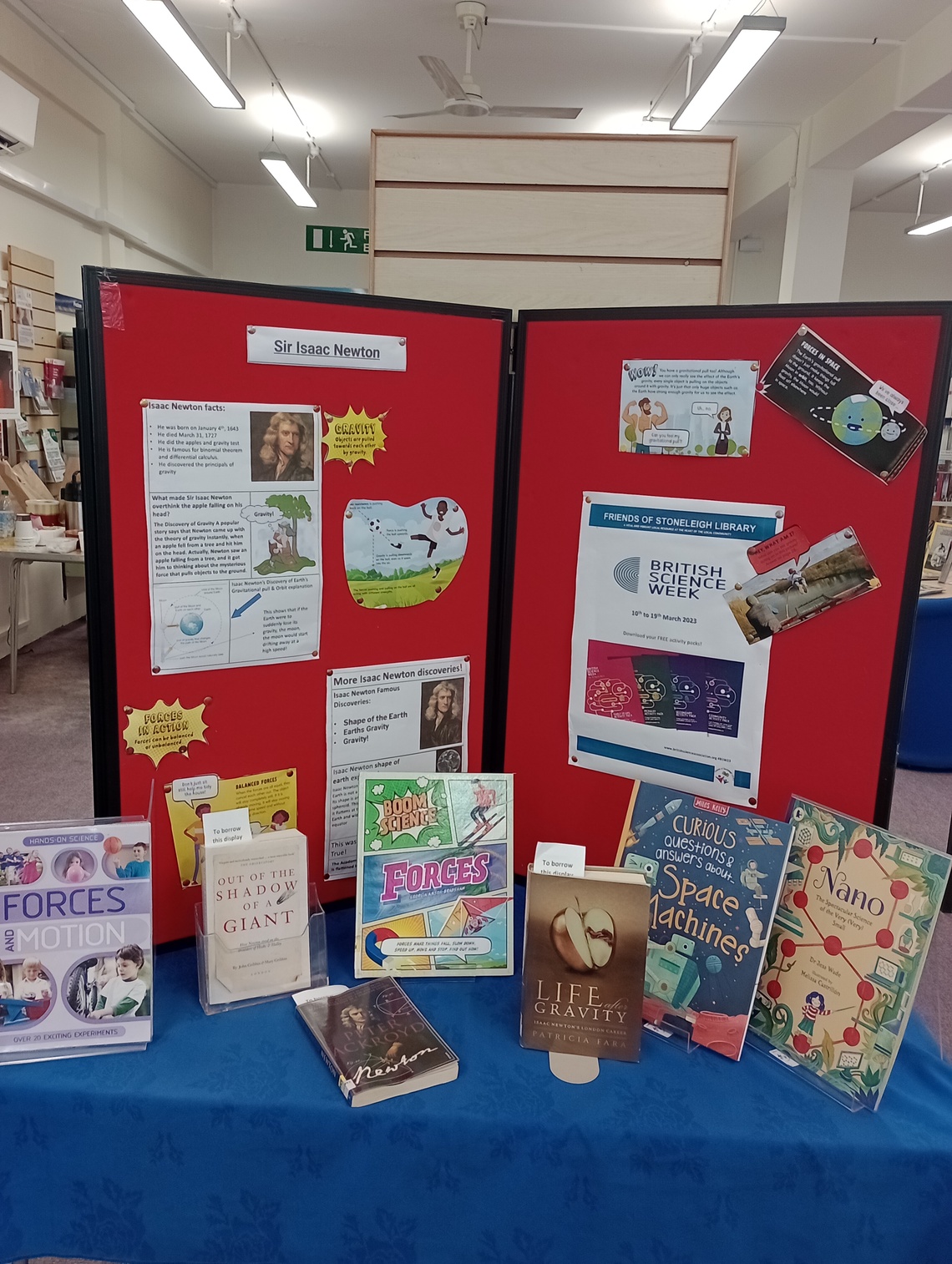 Our library celebrated British Science Week with a display featuring Isaac Newton, created by Jack, one of the library's young volunteers. The display was on display from March 10th to March 19th, 2023.
The display featured a variety of items related to Newton's life and work, including a portrait of Newton, a copy of his book Principia Mathematica, and a variety of scientific instruments. Jack also created a timeline of Newton's life and a map of his travels.
The display was a great success, and many people came to the library to learn more about Newton and his contributions to science. Jack was also very proud of his work, and he said that he learned a lot about Newton in the process.
British Science Week is an annual event that celebrates science, technology, engineering, and mathematics. The theme for British Science Week 2023 was "Connections." The theme was chosen to highlight the many ways that science connects us to each other, to the world around us, and to the universe.
The library's display was a great way to celebrate British Science Week and to learn more about one of the most important scientists in history. Jack did a great job of creating a display that was both informative and engaging. The library is grateful to Jack for his hard work and dedication.


Children's Author Event
Our Author event on Saturday 25th February 2023 meant that loads of local children got to meet author Marina A. Bennett who has written three books for children aged 8-12 yrs based on real historical events.

She talked enthusiastically about the stories behind the first two books of the series, 'The Ship of Doom' and 'The Mummy's Curse' plus she gave a sneak preview of her upcoming third, 'The Mona Lisa Mystery' - available soon.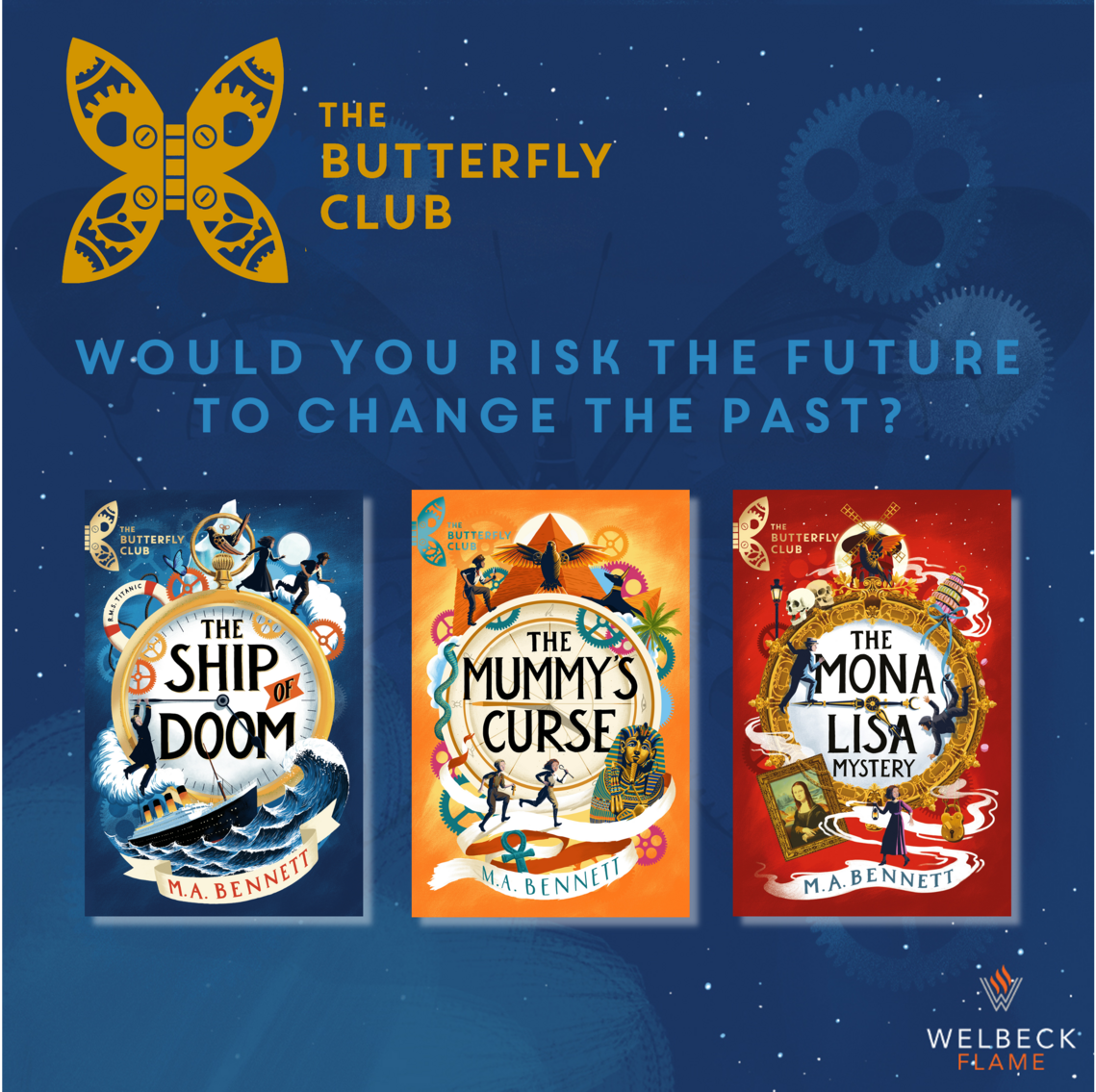 Marina later commented "I very much enjoyed meeting you and the kids. How nice to encounter such enthusiastic, polite and intelligent readers🙂🙁. And well done you for fostering their interest with your book club - this just demonstrates the importance of libraries and librarians!"
Our thanks also go to local bookseller, Waterstones of Epsom who were good enough to provide books for the children to buy at the event.
10th Anniversary Celebrations
On 14th February 2023, St Valentine's Day, Stoneleigh Community library volunteers celebrated the 10th Anniversary of Friends of Stoneleigh Library.
Our friends from Epsom Library, which helps to support us as our link library, came along to join in as well as the Mayor of Epsom and Ewell, Clive Woodbridge along with Simon Harding & Craig Jones from Surrey Libraries.

Simon, Library and Heritage Manager at Surrey County Council, was kind enough to present the volunteers with a special certificate of thanks for their efforts in keeping our library running for the local community.

The celebrations included a fantastic cake - made by the daughter-in-law of one of the volunteers. And, where there is cake, you can usually find Marvin the monkey - our much-loved permanent resident in the library.
Diana Kay, Chair of the Friends of Stoneleigh Library, said how proud she was of all the volunteers who give so much of themselves to keep the library open because it is so valuable as a community hub.
Christmas festive fun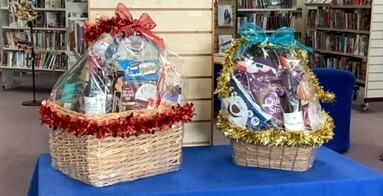 The legendary Stoneleigh Library Christmas raffle was drawn at the Lights on Broadway event on 2nd December 2022 by our Mayor, Councillor Clive Woodbridge. In addition to free refreshments and a warm place on a cold night, we also ran a free craft session for the younger children.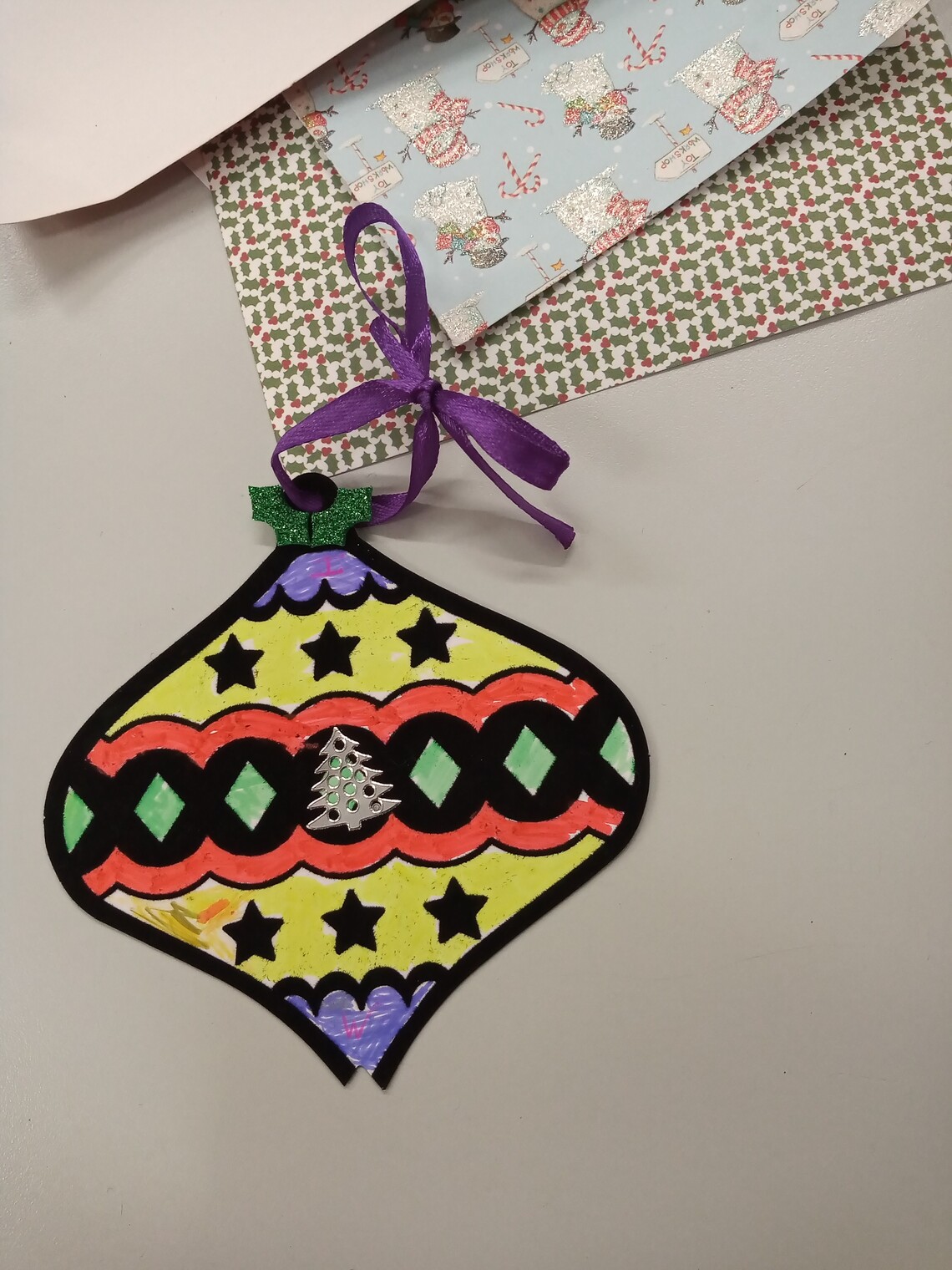 A very BIG thank you to all our ticket buyers for helping us raise money that enables us to support our community.
Autumn half-term holiday
On 26th October 2022 bestselling children's author, Octavia Lonergan came to visit the library.
She had a large audience of young fans and they all enjoyed storytime and sharing in craft actiivites together. Afterwards Octavia was happy to sign copies of her books:
"Cats' Eye View of Lockdown"
"Cats' eye View of Litter" &
"Cats' Eye View of Being Green".
Summer Activities for Children - a Big Hit
During August 2022 your library hosted some free children's Creative Workshops and some free literacy workshops courtesy of Explore Learning - a proud sponsor of the 2022 Summer Reading Challenge.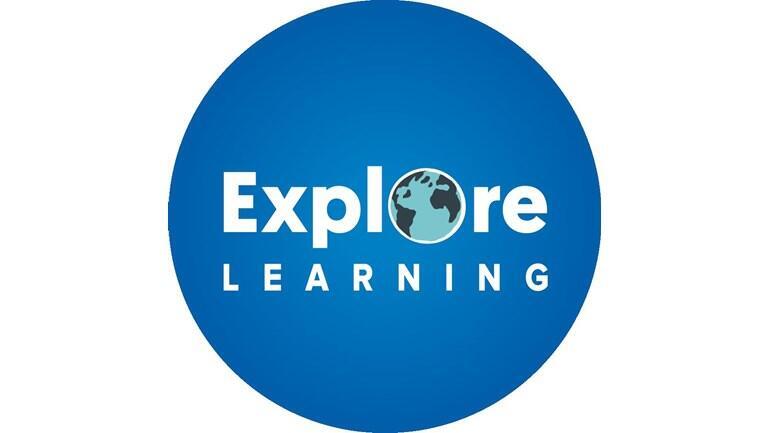 There were workshops 4-7-year-olds and for 8-11-year-olds and each made some pretty amazing Wind Chimes and Plant mazes to take home with them in the craft sessions or went on a special Gadgeters Literacy Mission using their imaginations to solve a disastrous pollution problem.
These events are always popular with children. Keep your eyes out for more events like this.

Little corgis surprise from local WI
It was Where's Winnie not Where's Wally at Stoneleigh Library on the 21st May 2022 when Stoneleigh WI provided two lovingly knitted corgis for us to hide in the children's area to celebrate the start of the Queen's Platinum Jubilee.
Some sharp-eyed children spotted one, and then another discovery quickly followed. Read more about the project here: https://www.thewi.org.uk/.../wheres-winnie-craft-competition
A super sunny day makes our annual plant sale a huge success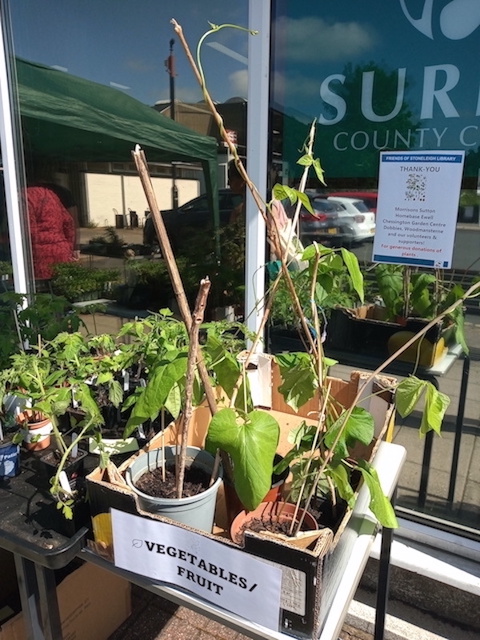 Beautiful weather helped the success of our annual plant sale on Saturday 14th May. The gardening event raised over £500 which will be used to support your community library.
Thanks to
Morrisons, Sutton
Dobbies Garden Centre, Woodmansterne
Chessington Garden Centre
Homebase, Ewell
for their generous donations of plants.
And thanks, also, to our amazing volunteers who helped organise and run the event - and everyone who contributed plants for the sale.
The event attracted more than a hundred visitors , young and old, from our local community. Many said they hadn't tried gardening before and the superb value of the plants on sale meant they could give it a go without it costing them a fortune - we hope the plants are now growing happily in your own gardens.
A new book club for our junior readers
In March 2022 we started a new venture at our library: setting up a reading panel of children aged 8 - 12 years to review books and help us choose more books for the library. The aim is to recruit enthusiastic readers who can also help with book displays and other initiatives to encourage and enthuse other children.
The group was successful in an initial pitch to Walker Books for 10 copies of a brand new book, "The Great Fox Illusion" by Justyn Edwards.
Several new members from a number of local schools joined the Beyond The Book Young Readers Panel for the May meeting. The group started to read the first few pages of the next book, The Great Fox Illusion - and made predictions as to what may happen and how the story might unfold.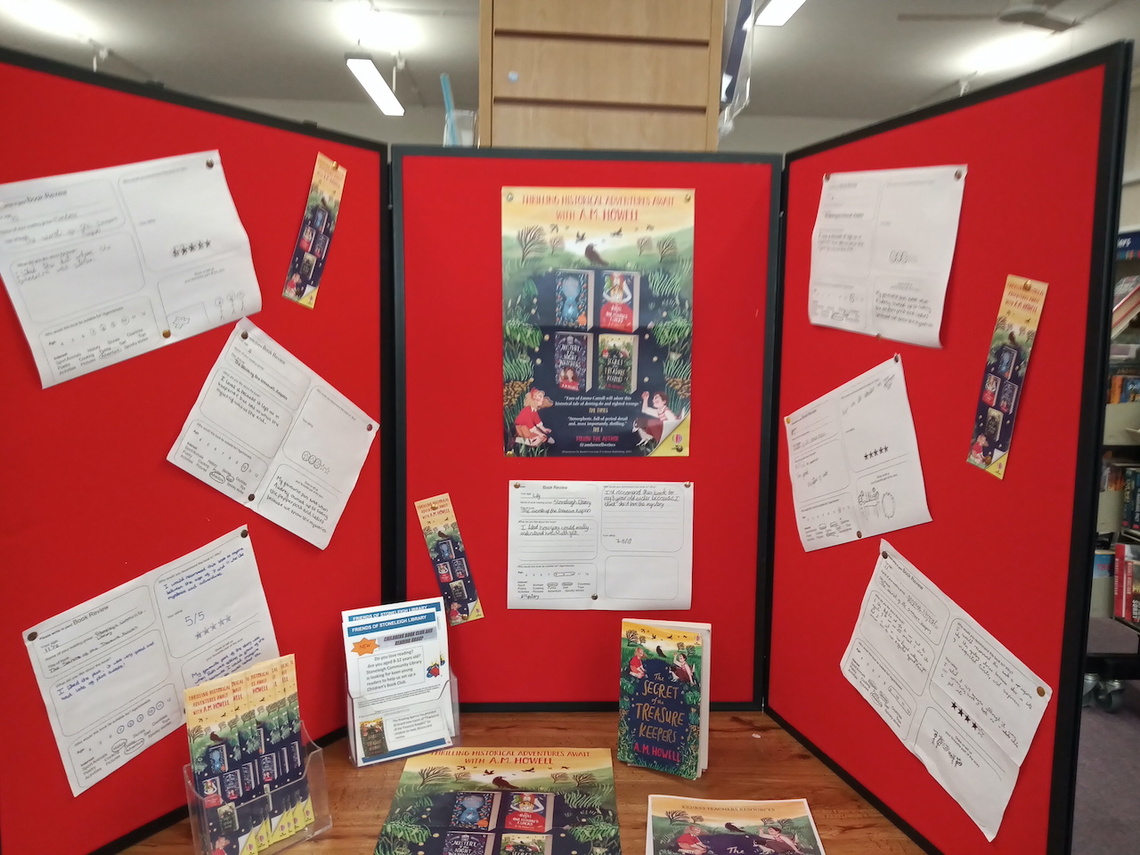 The group met at the end of the Easter holiday and enjoyed a lively discussion about the book. They all liked the twists and turns in the story and each had a different favourite character in the book. Their reviews, which feature in the library display that they created, will be sent to the Reading Agency.
In future, the panel members will be able to choose and pitch for other books from the Reading Agency, in partnership with publishers. Once they've read the book the children may donate their copy to their school library for others to enjoy.
We're always looking for more members to join the group. It's free to join and meets every 4 - 6 weeks on Saturday afternoon at 3.00 pm to 4.00 pm. If you have any young readers who may also be interested in this new enterprise please ask at the library or email stlibraryops@gmail.com.
Fun for all the family at our Board Games evenings
Our board games evenings are proving popular. At the April 2022 event there was a good selection of games to try.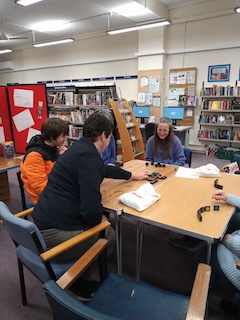 The evening started with a mega game of Querkl where 2 sets of the game were combined so everyone could join in.
For the later part of the evening the group divided to try different games including Patchwork, Pun-believable and Face change rubik's cubes.
Board games evenings are held on the last Friday of the month. They are friendly and fun for all the family - and they're free to attend.
Easter fun for the children

On 10th April, our library gave local children an Easter treat by putting on a free Easter Event which included Storytimes, Easter Crafts and an Easter Egg trail.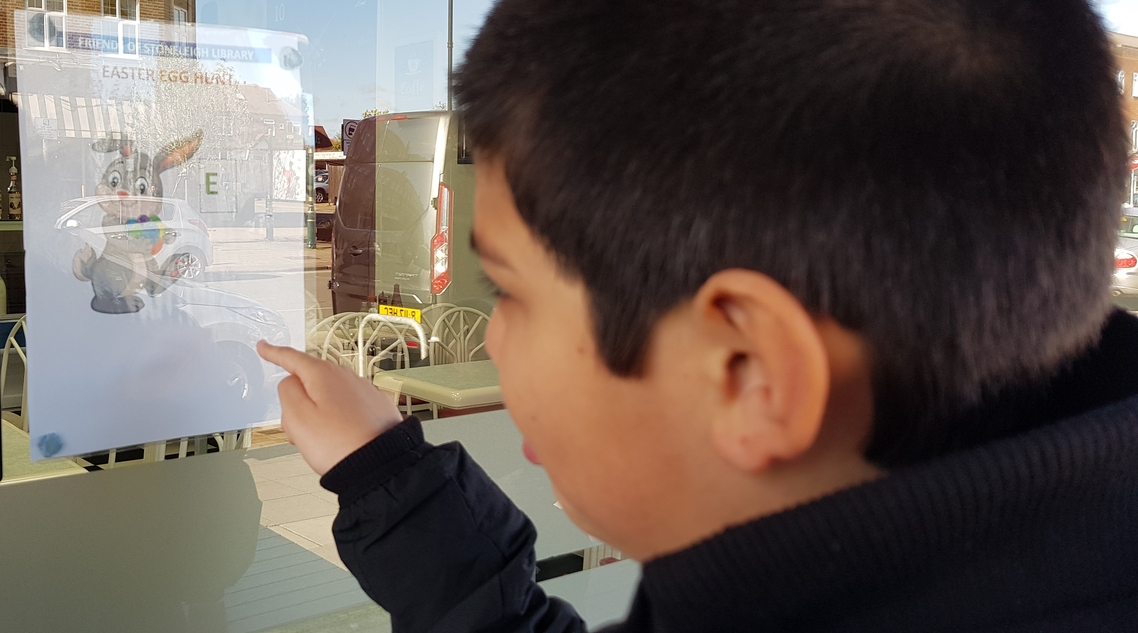 The trail had children busily seeking out Easter Egg posters placed in the windows of local shops up and down The Broadway - a big thank you to all the shop owners who made the trail possible - every Easter Egg poster displayed a letter and, once they had collected all the letters, the children could arrange them to form a secret phrase which won them a bag of Easter goodies.

The craft room was packed out with children happily decorating their personalised Easter bags.
Young visitors help with our spring display
The reception class at Nonsuch Primary School visited the library during March 2022 and helped us decorate the display board with a springtime theme.

They each made a daffodil as well as listening to stories and finding out more about how the library works.
Return of the Hedgehogs
We all love hedgehogs, but climate change, habitat loss and pollution are all big threats to the species and, unless we act, hedgehogs could eventually become extinct.
That's why The Climate Coalition is working in collaboration with The Wildlife Trusts, National Trust, Woodland Trust, CPRE Surrey and Surrey WI to draw attention to this prickly fact.

They've teamed up with the people of Epsom and Ewell to place 50 locally crafted hedgehog sculptures around the borough. One of them was on view at the library over the weekend 25th - 27th March 2022 before returning to Epsom Library.
Live streaming children's stories in the library
Childrens' imaginations can run wild as storyteller John Kirk takes them to far off places and shares classic fairy and folk tales. This is a virtual entertainment experience like no other as scavenger hunting and storytelling collide in a jam-packed session that's fun for all the family.
A second series of stories started on 2nd April, continuing on 14th May, 11th June and 16th July.

In collaboration with Surrey Libraries, the brilliant storyteller John Kirk came to our library's big TV screen for three virtual sessions during January, February and March 2022.

Half term children's activity with a local author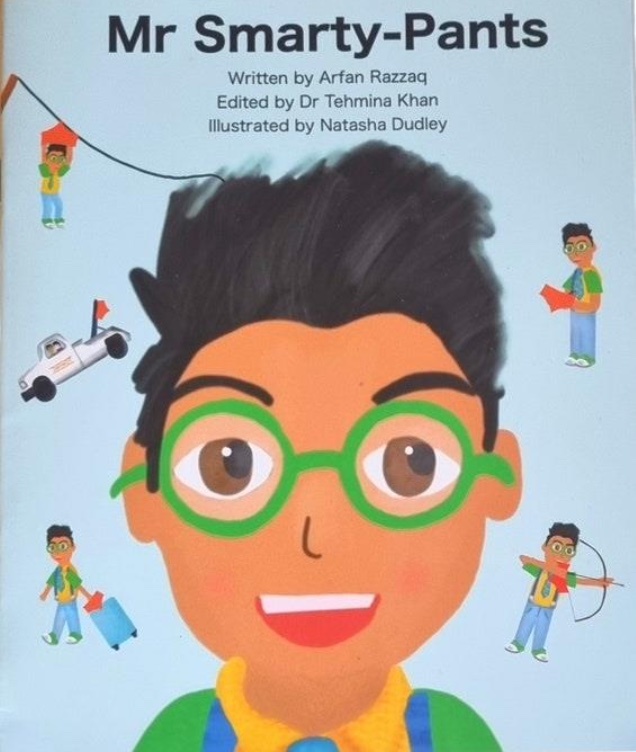 Local author Arfan Razzaq visited the library on 16th February 2022. He read from his book and explained what had inspired him to write the story.

During the session, the children were encouraged to think creatively about problem-solving and to find out how to help the planet through recycling. At the end of the event, the children had created some amazing creatures using old socks, rubber bands and some uncooked rice!
Crime Prevention Talks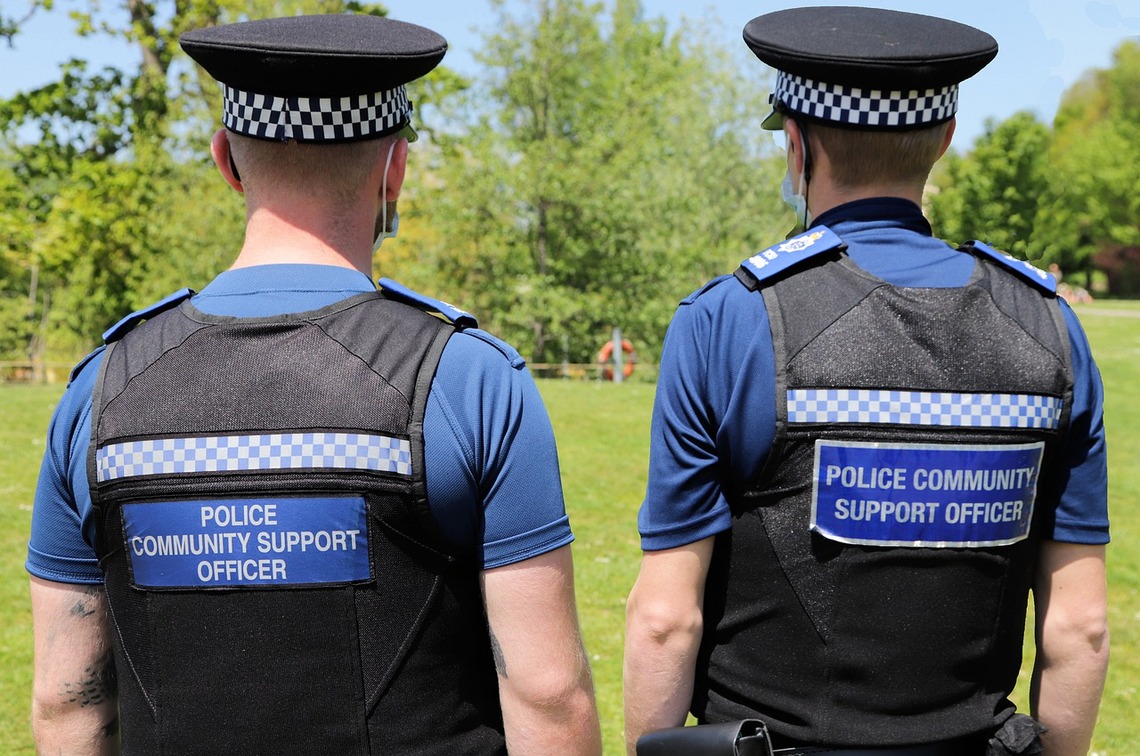 During February 2022 Stoneleigh Library hosted two talks by the Epsom North Safer Neighbourhoods Team. Topics discussed were Burglary Prevention and Home Security, and Catalytic Converter theft.
Chinese New Year fun in the library!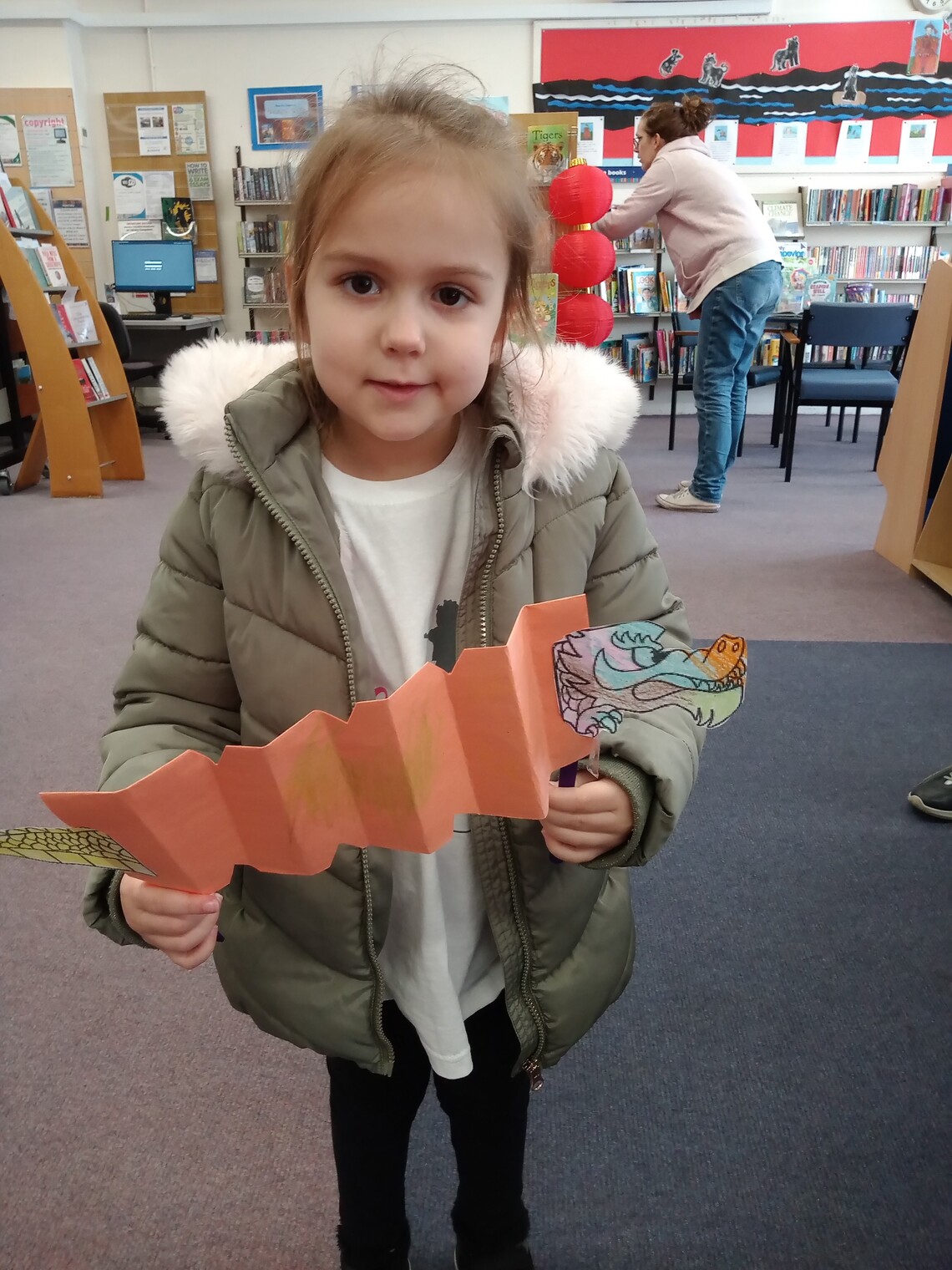 On Saturday 5th February 2022, Stoneleigh library celebrated Chinese New Year with a special Storytime and craft session about the story of The Jade Emperor and The Great Race.
The event was well attended by local children and their carers who listened to the story being told using a specially made 'concertina style' foldout that transformed into a magnificent dragon.

After Marvin the Monkey and his friend had finished reading the story, the children made their own beautifully coloured concertina dragons.
Keep an eye out for more Children's events at the library! Why not sign up to our FREE email newsletter?