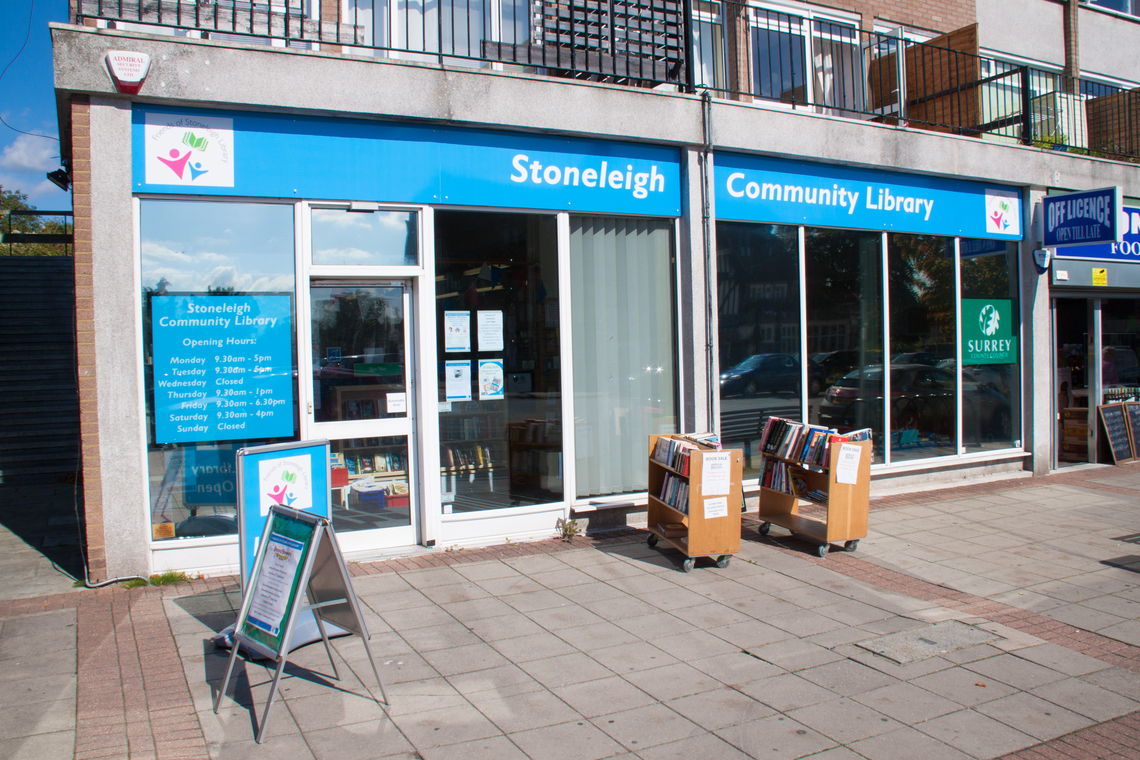 Stoneleigh Community Library is a collaboration between Surrey County Council and the Friends of Stoneleigh Library - a charitable association specifically formed to ensure that Stoneleigh continues to have a vibrant community library that is an enriching and responsive resource for all.
Please note that Ewell Court Library will be closed from 4.00 pm on Saturday 4th Dec until 10.00 am on Tuesday 14th Dec for essential building maintenance.
CHRISTMAS
AT STONELEIGH COMMUNITY LIBRARY
Christmas Opening Hours
24th December 10.00 am - 12.30 pm
25th December Closed
26th December Closed
27th December Closed
28th December Closed
29th December Closed
30th December 10.00 am - 12.30 pm
& 2.00 pm - 4.00 pm
31st December 10.00 am - 12.30 pm
& 2.00 pm - 4.00 pm
1st January Closed
2nd January Closed
3rd January Closed
Christmas Gifts

We have loads of great Christmas gifts at the library including stocking fillers and pocket money items for just 20p, hand-knitted Christmas tree decorations (including a special £1.50 Marvin the monkey one!), Christmas craft kits to make fun puppets and Christmas stockings for only £1 each. Copies of 'Bake Me a Christmas Story' are just £5. Stoneleigh tea towels make a great gift at £5 each or 3 for £10. Just pop in!

THINKING ABOUT VOLUNTEERING?
Stoneleigh Community Library Needs You!
Volunteering can be so rewarding and it helps our
local community.