Archive 2016
Winners of the Children's & Family's Story Writing
& Picture Drawing Competitions Announced
At our craft fair on the 9th Decmber, we announced the winners of these competitions that brought to life Marvin's adventures. The proud winners are shown below;

A very BIG thank you to all who entered.

Marvin was very impressed with all the entries and thought he would give bananas to everyone who entered.

Sadly though, Marvin got a big hungry and ate all the bananas - which gave him a bit of a tummy ache.

Do come into the children's library and say hello to Marvin soon!
A Sumptious Christmas for our Lucky Raffle Winners!

Thank you all who took part in our Christmas Hamper Raffle. We raised more than £90 which will help us continue to support our community. Diana Kay, Chair of Friends of Stoneleigh Library, helped by some of our winners of the story and drawing competition, drew the raffle and the lucky ticket holders are pictured below with their prizes;

Which? Magazine
We are pleased to announce that Which? Magazine is again available at Stoneleigh Library,both as the printed magazine and in limited form online on a library computer. You may rememeber that Surrey Library services decided that, as a money saving exercise, Which? would only be provided in major libraries, however as a popular item Friends of Stoneleigh Library have decided to purchase a subscription themselves. Due to copyright restrictions we are only able to offer access online at certain times booked in advance.
Creepy Crafts Scare Stoneleigh Silly!

| | |
| --- | --- |
| On Thursday 27th October, our 5-11 year old readers got to work producing some really brilliant scary crafts - fuelled by plenty of squash and biscuits at our FREE Creepy Crafts event in the community room. | |
| | |
________________________________________________________________________________________



A BIG,

Friendly Celebration
| | |
| --- | --- |
| On Saturday 25th September, we held the Summer Reading Challenge Finishing Party and invited along the 200+ local children who had successfully completed the challenge by reading six books during the summer. This was a huge success and a great opportunity for everyone to celebrate together our record breaking achievement. | |
| | There was plenty of squash and cakes for the children as well as a challenging Roald Dahl treasure hunt that kept young minds busy whilst the parents and carers enjoyed coffee, tea and cake. |
| | |
| --- | --- |
| At the end of the treasure hunt, the Mayor pulled the name of a lucky treasure hunter out of a hat and the winner got her very own Roald Dahl book to keep. | |
We also had some special visitors to the celebrations;
George Crawford, Mayor of Epsom and Ewell came along to show his support for our Community Library and to congratulate all the children on completing this year's summer reading challenge.

George spent a lot of time talking with the children and because they loved his ceremonial robes, he told them the story behind why mayoral robes look the way they do.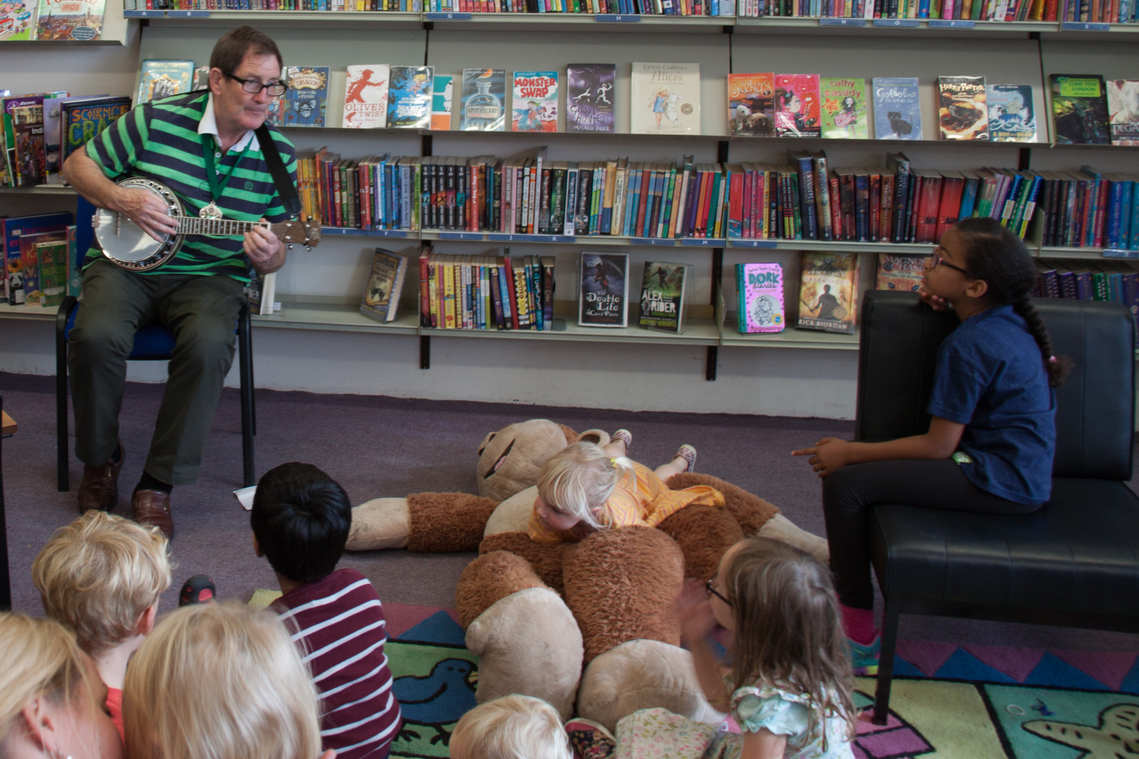 As well as wearing his mayoral robes, George also brought along his ukulele and entertained everyone with a few excellent songs.
| | |
| --- | --- |
| Paul Eisner, a 2016 Gold Medal winner and World Champion in theF2A fixed-line model aircraft speed championships made a special appearance and gave an inspirational talk to the children and parents about the importance of not giving up and how persevering made him a world champion. | |
| | |
This celebration was made possible by support from the local community and by the library's volunteer staff who gave up their free time to make it such a huge success.
Eat Your Words!
There was fun at the Library on 4th August when we held our first free activity session inspired by this year's Big Friendly Read.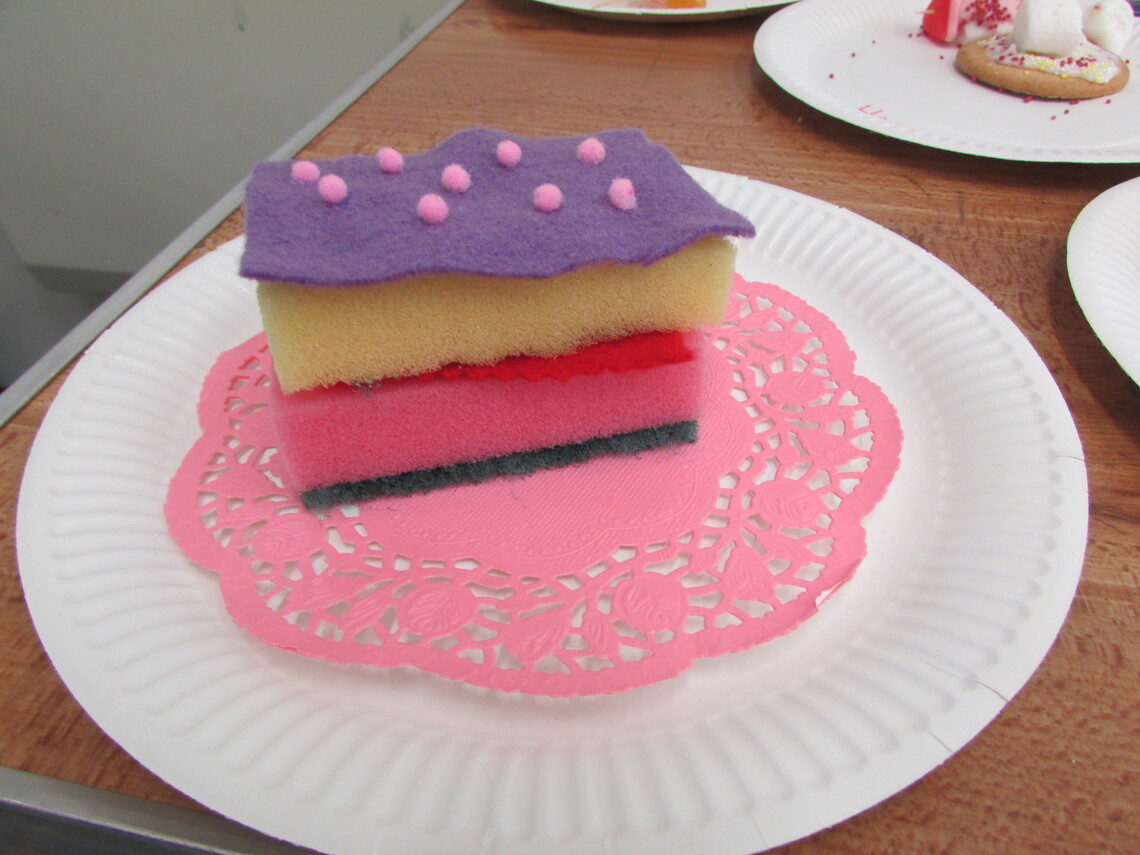 There was edible paper and drawing pens as well as some very tasty LOOKING sponge cakes and "YUMMY" chocolate bars and of course what sweet treats event can happen without biscuit icing.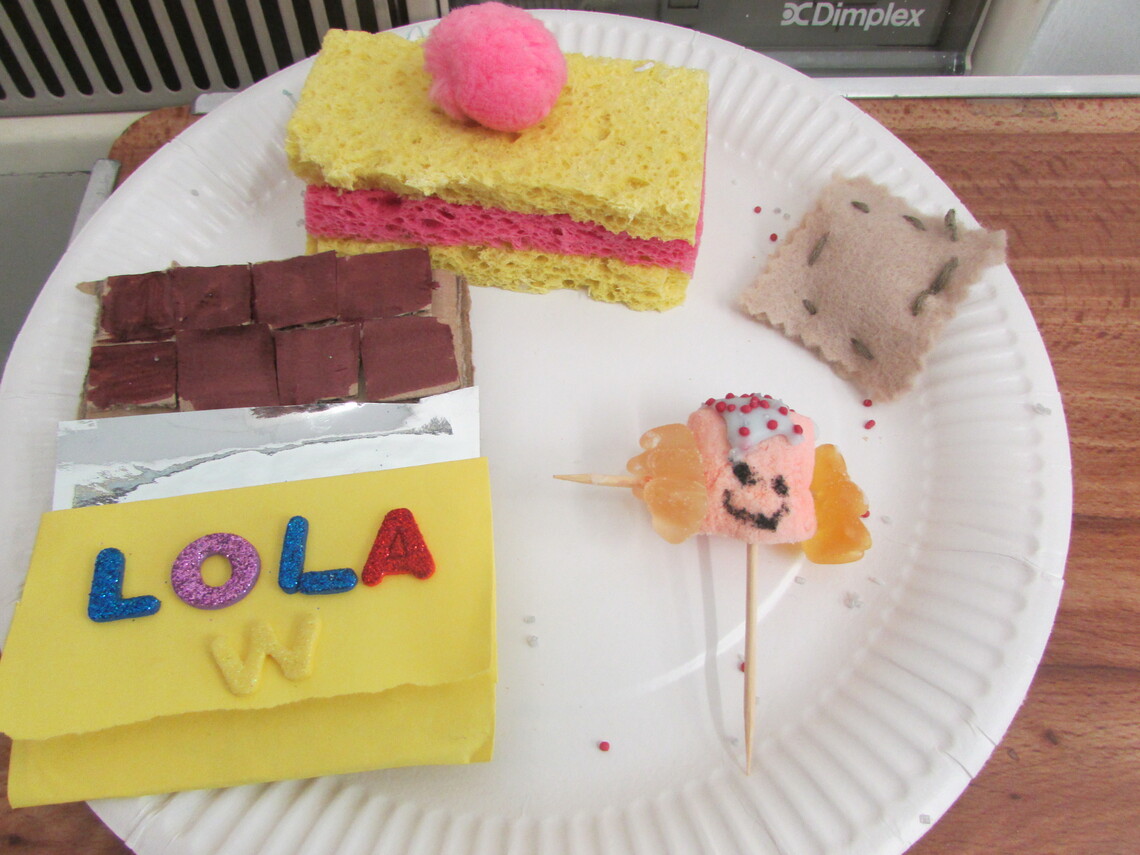 Follow Stoneleigh Library on Twitter
We're now on Twitter so please follow us on;
Volunteer Awards
The Chair of Friends of Stoneleigh Library, Diana Kay, has been recognised for her contribution to our local community by this year's Volunteer Awards.
The event took place on 2nd June and was organised by Voluntary Action Mid Surrey in partnership with Epsom & Ewell Borough Council and Mole Valley District Council to acknowledge the contribution of volunteers in local community who has have made a real difference in the local community.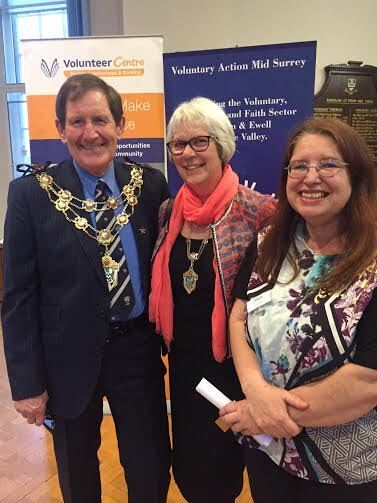 thanks to Dawn Helps for the photo
The picture above shows Diana with the Mayor of Epsom and Ewell, Councillor George Crawford QPM who presented the awards for Epsom and Ewell. Well done Diana!
If you would like to make a difference, why not call in to the library and speak to any of the volunteers about joining in to support us. Even if you've only got a couple of hours a week free or if you couldn't guarantee a regular time to be available, we'd still like to hear from you. Please click HERE for more information about volunteering.

New Photocopier/span>
Many of you are aware that the Surrey Library Service is no longer providing a photocopying service for the public in smaller libraries such as Stoneleigh, so Friends of Stoneleigh Library has purchased a new photocopier which is available for anyone in the local community to use. The photocopier will do both black and white and colour copies and takes A4 and A3 paper. We are keeping the prices the same as previously for black and white copies at 10p per side of A4, but have cut the price of colour copies from £1 to only 50p for A4 and from £1.50 to £1 for A3.
The new copier produces really good quality output and in future we hope to offer B&W and colour scanning (both A3 and A4) to USB stick as well.
Stoneleigh Library Celebrates its 50th Anniversary

Above: The Rt Hon Chris Grayling MP and the Chair of Friends of Stoneleigh Library, Diana Kay, unveiing our new aerial photograph at our anniversary celebrations on Saturday 16th April 2016.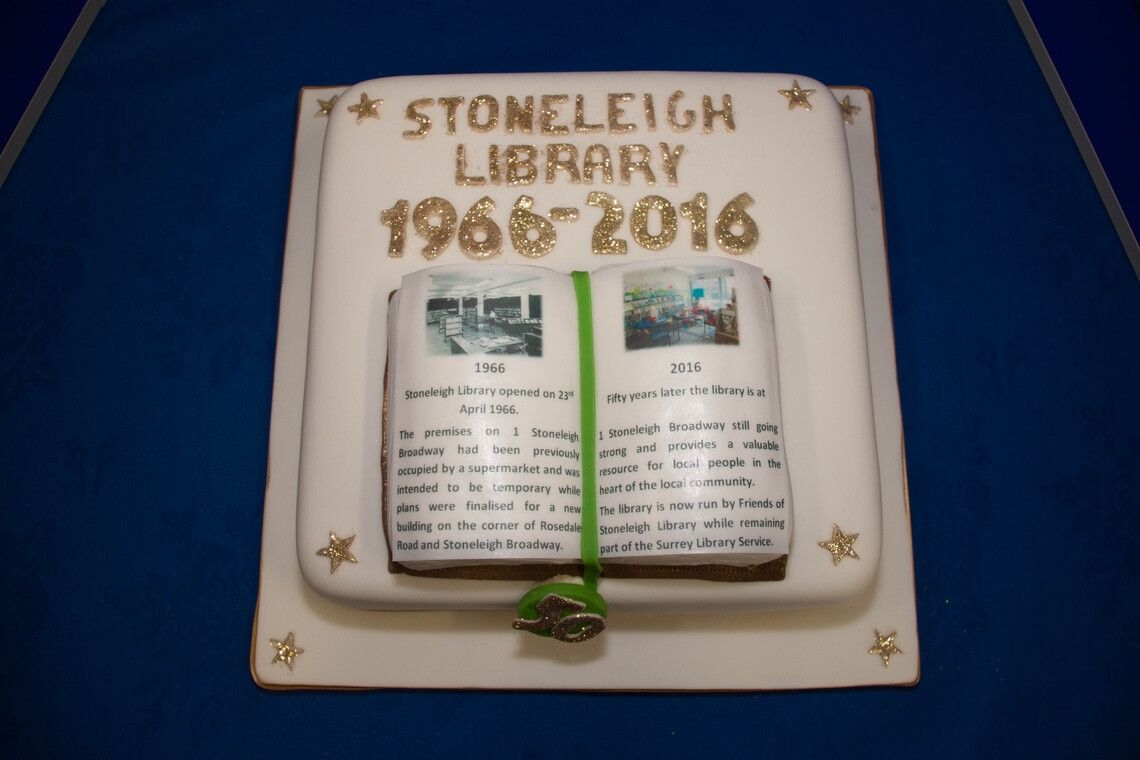 Saturday 16th April saw the Library celebrate its 50th Anniversary with tea and cake for everyone!

Stoneleigh Library was officially opened on April 23, 1966, by the then-mayor of Epsom and Ewell and it's now been operating for 50 years!






Taking a book out, then and now.

Both the Mayor, Chris Frost, and our MP, The Rt Hon Chris Grayling, joined in the celebrations along with our volunteers, who keep the library running, and many library users.

The Rt Hon Chris Grayling unveiled our new colour, aerial map of Stoneleigh before admiring the many celebration decorations made by our local schools.

Crowds celebrating, then and now.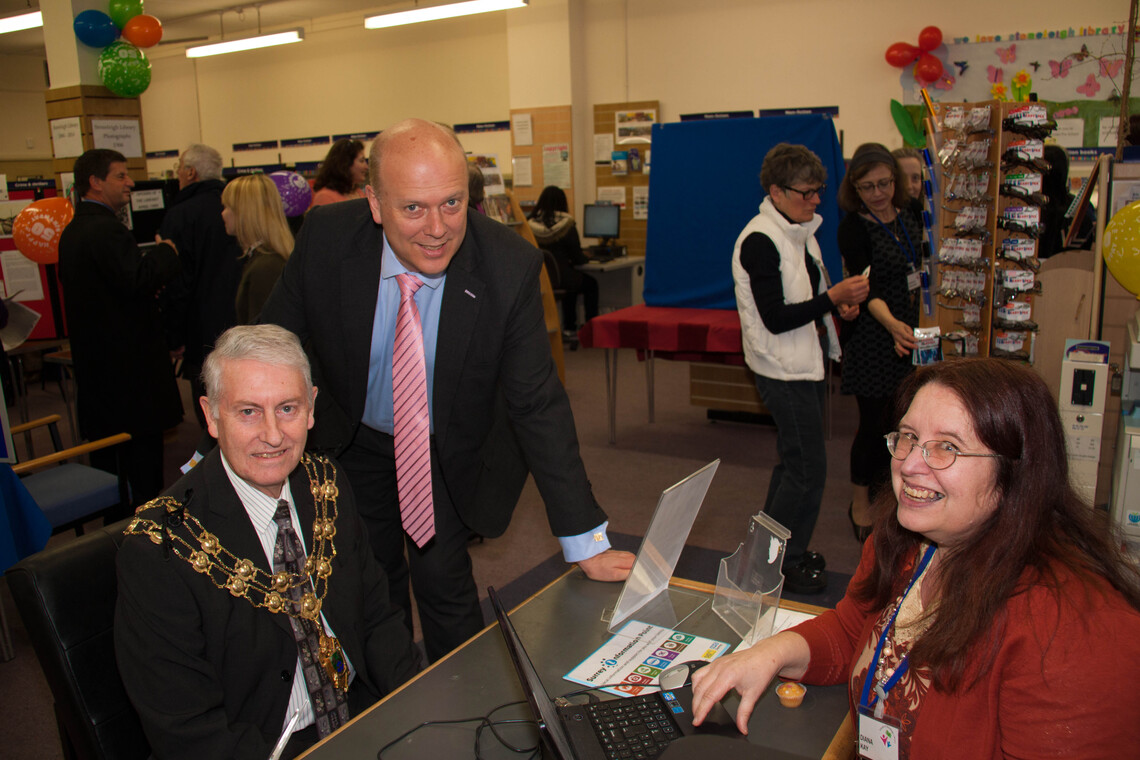 [This will open a new browser tab or window]
Sparrows Preschool Visit, W/C 29th February
| | |
| --- | --- |
| A big thank you to the children from Sparrows Preschool who came to the library for stories and to make some butterflies and caterpillars for our display board! | |
Half Term, Children's Activities
The half term children's events were very popular as usual, bringing young and old together into our library;

On Saturday 13th, the "Valentines Biscuit Decorating" was popular with both young and old alike. We were lucky enough to take a photo of one of the finished valentine's creations before it, like so many on the day, disappeared into a hungry mouth.

On Monday 15th, we had a special Monday Storybox for the under 8s with the Library's very own Marvin the Monkey and Friends. We had a number of great stories, including a smashing story about Marvin and Friends who were very excited that this year is the Chinese year of the Monkey. The children also got to do crafts whilst the parents enjoyed some well-earned FREE coffee and biscuits. (Watch out for forthcoming Storybox events in our events section).

On Thursday 18th, the children made models out of Hama Beads, Modelling clay and Knex - including a most impressive train, a station and train track that ran the length of the community room!

On Friday 19th, we launched a NEW Friday Rhyme and Storytime for children aged 0-4 - this FREE event will continue weekly at 2pm finishing at 2.30pm allowing for parents who also have school children to the school gate for pick ups.


A brilliant Elephant crafted during Storybox.

Children's crafting is always a roaring success!
February's Creative Writing Group
February's Creative Writing event was well attended and pieces on the topic of "My Favourite Book" were discussed. Interestingly,most of our budding writers found that they could not chose just one favourite book. One said "Just like one cannot choose which child is a favorite one, choosing a favourite book is both impossible and unfair".

Some people bought a copy of their most treasured book whilst others described them in detail. One writer mentioned a particular childhood story about a tribe of red squirrels whose way of life was threatened by a tribe of grey squirrel invaders. The writer was frustrated as they had long forgotten the title and author but, being a well read group, another member quickly came up with the required information – "A Squirrel Called Rufus " a book published in the 1940's – and, what's more, they even had a copy!



Cluck, Cluck at Storytime
All things were chicken at storytime recently as the children set to work making their very best feathered friends!


The polka dot wings were made out of cupcake cases.

This was made possible by Sainsburys North Cheam who are so generous in providing us with surplus stock and donations. Recycling at its best!
Saturday 6th February, 2016 - National Libraries Day Celebrations
Despite the rain and the very strong winds, our celebrations for National Libraries Day were well attended by young and old alike.

The craft workshop in our community room meant the children produced some brilliantly decorated balloons along with a few loud bangs - which kept us all on our toes! They also made some excellent bookmarks that fitted snugly over the corner of their favourite books.

Our local author and illustrator, Zehra Hicks, called in to read from one of her books, All Mine!, a great tale about a seagull who wouldnt share. This special rhymetime session was full and the children were so engaged that many parents took the opportunity to grab some of the free refreshments that were on offer.

We were pleased to get a healthy number of visitors supporting our Try Ten Titles campaign and landing themselves one of our high quality Library bags for free.

A big thank you to Zehra, all the Stoneleigh Library volunteers and to all who came along and supported this great day.
Thursday 21st January, 2016 - The Library Volunteers Social Event
In recognition of all the work put in by the many volunteers, we held a social event allowing everyone to get together, something that rarely happens and it was a great opportunity to welcoming along and thank a number of our supporters.

As well as refreshments, we unveiled new library equipment and held a literary themed quiz with our well-read winners shown on the right.

If you'd like to join our team of volunteers please >click here.<